Kitchen Remodeling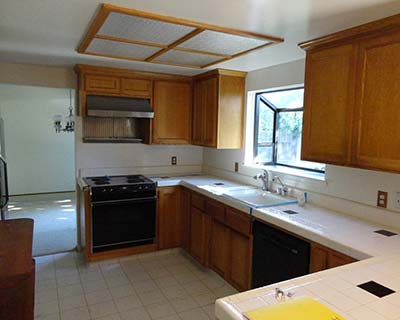 If kitchen remodeling is in your next wish list, please contact us at Bristol Construction. We offer professional and expert assistance at costs that won't hurt your pockets. If you want some proofs of our capabilities as a contractor, we can show you some of our completed projects in Sacramento, Folsom, Carmichael, Eldorado Hills, Rancho Cordova, and Orangeville, CA. Our clients from these areas are all satisfied with how we handle their projects, and they even recommend us to their friends and colleagues because of our excellent workmanship. Call us at (916) 798-4827 so we can start discussing the details of your interior remodeling project.
Professional Kitchen Remodeling
Our company has been in the home remodeling business for years. This lengthy experience has helped us become experts in various home improvement tasks such as renovation and remodeling. Our crews are all professionally trained and possess the necessary certifications to perform various kitchen remodeling tasks. When you hire Bristol Construction today, we will assure you of top-quality service - from initial consultation up to the installation of the different kitchen appliances and accessories.
We also ensure that our crews are properly equipped with the right tools and equipment. These resources help them perform various tasks efficiently and promptly. In addition, proper installation of new kitchen fixtures and accessories is also guaranteed.
Well-Thought-Out Kitchen Remodels
Bristol Construction is updated with the latest trends in kitchen remodeling. We can make your outdated kitchen more functional and attractive with our in-depth knowledge of kitchen design principles, current trends, and modern remodeling techniques. We also prepare a well-thought-out remodeling plan to help you maximize the kitchen space, minimize cost, and improve the functionality and aesthetics of the kitchen.
Here are some of our recommend additions or changes when working on a kitchen remodeling project:
replacing old kitchen countertop with granite, quarts or marble countertop
installation of new tile backsplash
installation of custom cabinetry
adding task lighting to improve illumination in the kitchen area
floor tile replacement
replacement and installation of new windows
upgrade of old kitchen appliances with energy-efficient models
repainting of walls, ceiling, and cabinetry
installation of top-quality faucets, sinks, and other kitchen accessories
Our kitchen remodeling service is customized according to the needs and preferences of our Sacramento clients. The list above is just a sample of the different tasks that we can do to improve the functionality, aesthetics, and safety in the kitchen area. Please talk to us and we'll help you realize your dream kitchen. Call (916) 798-4827 now.
"MORE ARTICLES"
Bathroom Remodeling
Interior Remodeling